Peregrine falcon pictures
Original oil paintings of peregrine falcons
This page of peregrine falcon pictures shows my wildlife paintings depicting the peregrine falcon, Falco peregrinus. One of my specialities is depicting birds in action. Few birds of prey can match the drama of a hunting peregrine.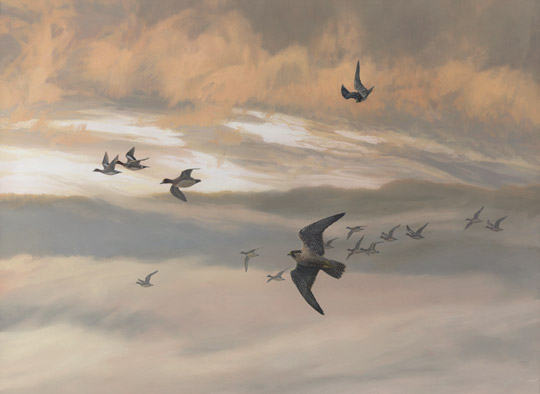 "Double Trouble", Peregrine Falcons Hunting Wigeon
oil painting, 24 x 33 inches, £2695
Sold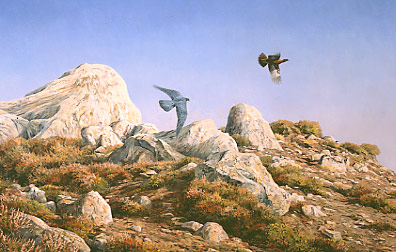 "The Pursuit", peregrine falcon and red grouse
Oil, 19 x 32 inches £1395 Sold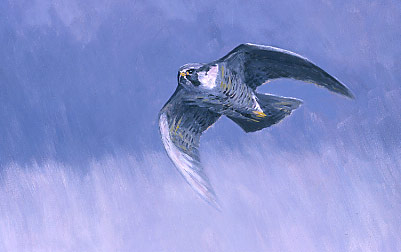 Peregrine falcon picture
Oil painting (detail)
Original Sold - Available as a canvas print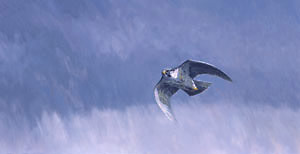 Peregrine falcon print, "The Stoop"
LARGER PICTURE
BOARD-BACKED CANVAS PRINT
(approx. 10 x 20 inches)




Please note: These canvases are produced following your order
and are posted to you direct from the printers.





Peregrine falcon chasing red grouse
Oil painting, 14 x 35 inches
Sold



Peregrine falcon stoop
Oil painting, 12 x 18 inches
Sold

Corporate art commissions

I can provide art for offices, architects and designers, the corporate
sector and private clients.

Interested in a special commission view information at
corporate art commissions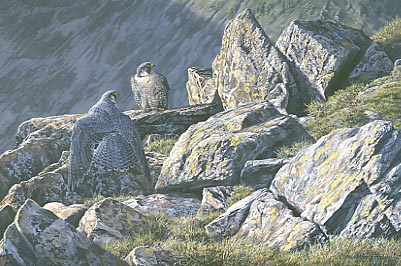 "Lakeland peregrines", peregrine falcon picture
Oil painting, 20 x 30 inches
Sold