Upland game birds pictures
Original oil paintings of upland game birds
All the species of upland game birds listed below can be found within a few miles of my studio and I'm sure that so long as I live in the Scottish highlands I'll be painting plenty of pictures depicting game birds.
Black Grouse,
Tetrao tetrix
Ptarmigan,
Lagopus mutus
Red Grouse,
Lagopus lagopus scoticus
Capercaillie,
Tetrao urogallus
Studying upland game birds
| | |
| --- | --- |
| Upland game birds: share in my studies of black grouse, Tetrao tetrix - methods of observsation at a black grouse lek. Dug into the snow I set up an observation hide at an impressive grouse lek. View the resulting sketches and paintings of these impressive upland game birds studying upland game birds (Secret Location - Central Highlands of Scotland.) | |
In late winter and spring male black grouse congregate at traditional locations called leks, where they compete for the females. The blackgame arrive from miles around to display communally and fight to establish possession of the most valuable territory.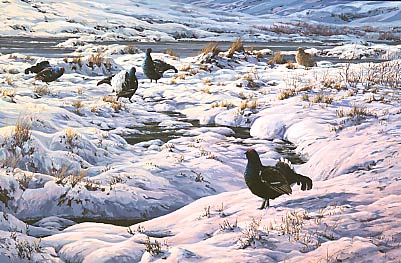 Black Grouse Lek
Oil painting, 24 x 36 inches
Sold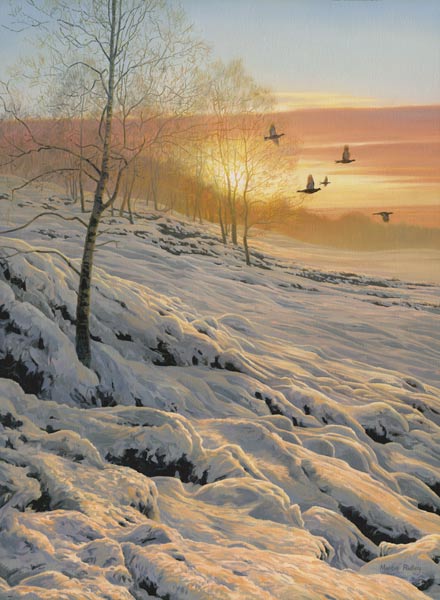 Flight of Black Grouse
Oil painting, 30 x 24 inches, £2850
Sold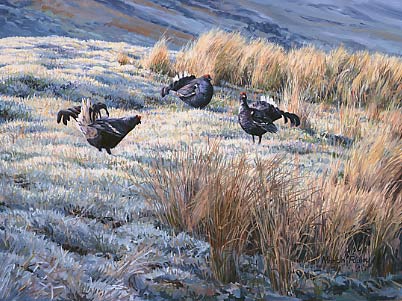 Frosty Morning, Black Game, Tetrao tetrix
Oil painting, 12 x 16 inches
Sold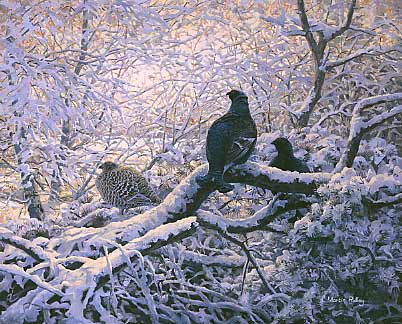 Black Grouse Roost, Tetrao tetrix
Oil painting, 18 x 22 inches
Sold

Black Grouse in Snow Print
CANVAS PRINT




The above oil painting features on the screensavers