Original paintings for sale
Buy art - original paintings
2nd of 3 pages
Original paintings for sale - all paintings and drawings by artist Martin Ridley. Buy paintings depicting wildlife subjects in their natural surroundings. I try to keep a stock of about forty original oil paintings for exhibition purposes with the added benefit that there is always plenty to look through.
If you find a painting, which you would like to purchase contact me directly to confirm availability. The paintings offered here are not the only original works that I have available for sale. Feel free to send me an e-mail if you are looking for artwork of something in particular. >> contact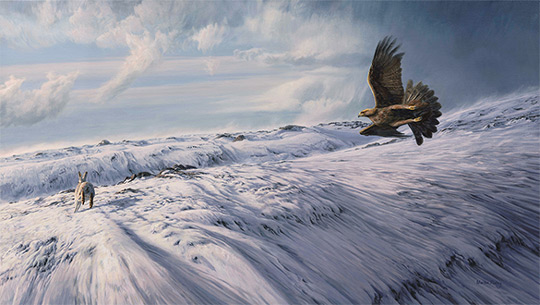 Hunting Golden Eagle
Secong painting from the series: Survival - Golden Eagle versus Mountain Hare
Oil painting
26 x 46 inches
For Sale £6450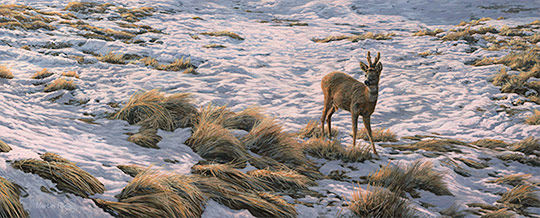 "Alert Roe Buck"
Oil painting
12 x 30 inches
For Sale £2100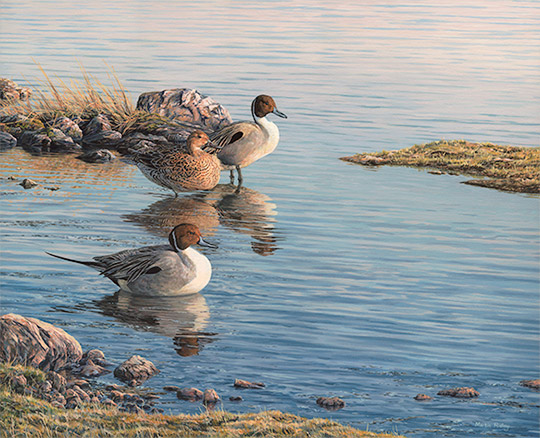 "Pintail Trio "
Oil painting
24 x 30 inches
For Sale £4450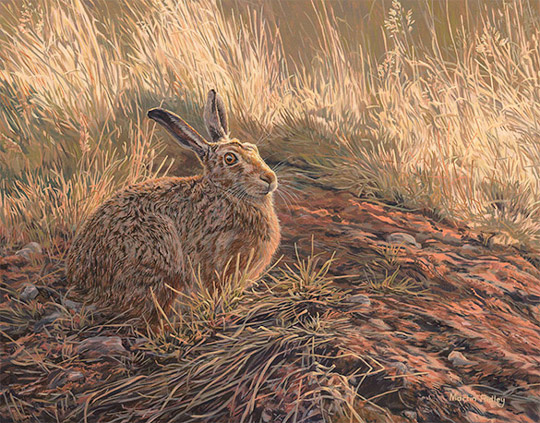 "Golden Evening", Brown Hare
Oil painting
14 x 18 inches
For Sale £1650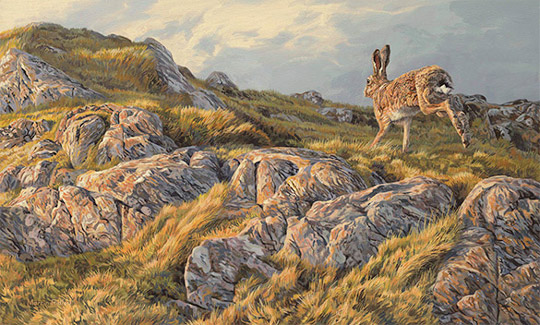 "Over the Hill", Running Brown Hare
Oil painting
14 x 24 inches
For Sale £1700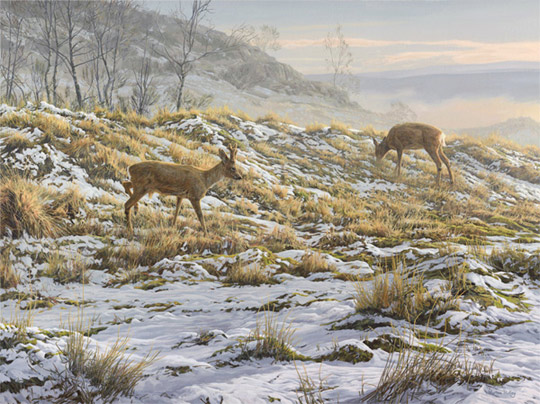 "Thawing Snow", Roe Deer
Oil painting
29 x 39 inches
For Sale £6650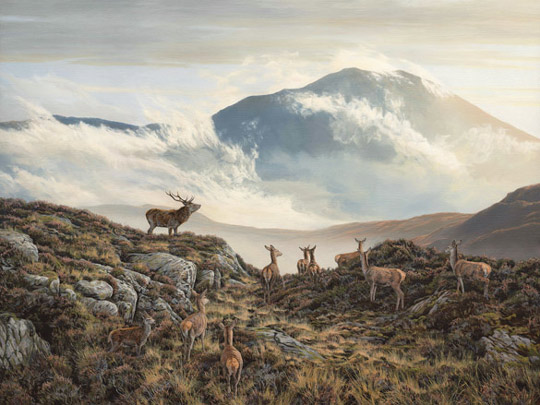 "Ben Vorlich", Red Deer Painting
Oil painting
30 x 40 inches
For Sale £7550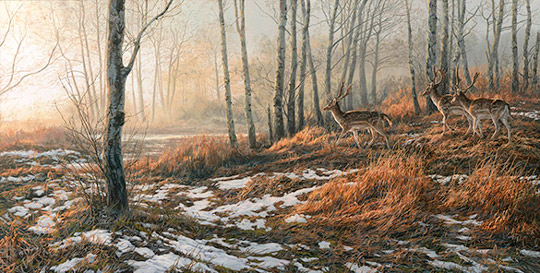 Fallow Bucks Painting
Oil on canvas, 21 x 42 inches
For Sale £7300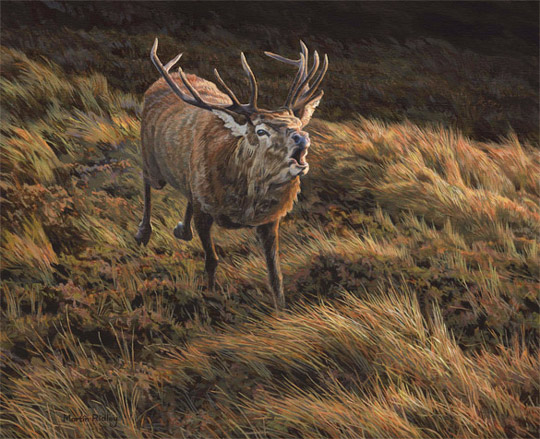 "The Charge" Red Deer Stag
Oil painting
19 x 23 inches
For Sale £3345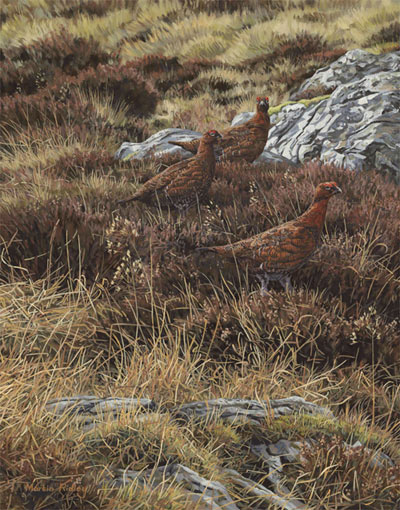 Red Grouse Trio
Oil on canvas, 18 x 14 inches
Sold 11/1/13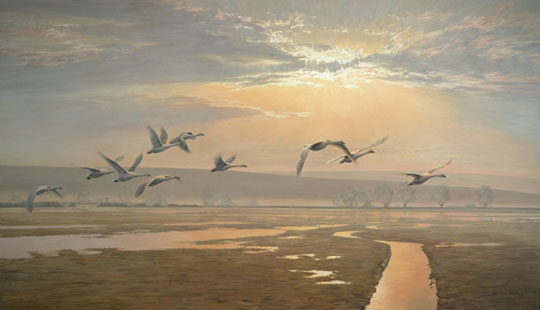 Flight of Bewick's Swans
Oil on canvas, 9 x 5 feet
Sold 3/4/12

The above painting features on the free wildlife screensavers

This large canvas was created during my last exhibition in the Cheng-Kim Loke
Wildlife Art Gallery at The Wildfowl & Wetlands Trust, Slimbridge, Gloucestershire.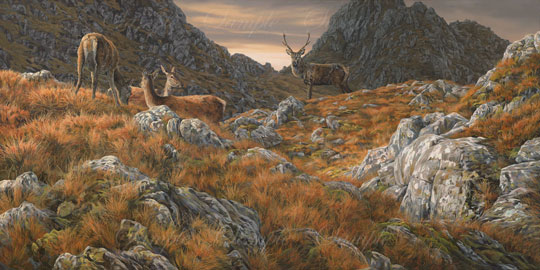 "Amongst the Crags" Red deer
Oil on canvas, 24 x 48 inches, £6650
Sold 9/1/11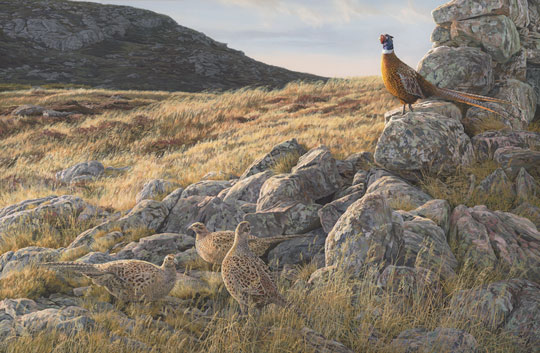 Tumbled Wall, Pheasants
Oil painting, 26 x 40 inches
Sold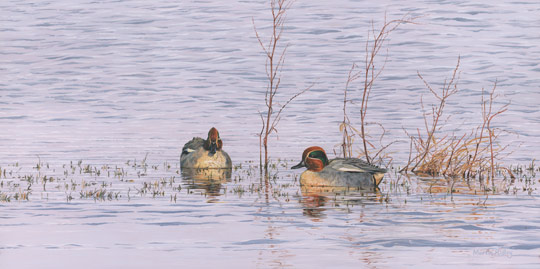 Drake Teal and Dock Stems
Oil painting, 12 x 24 inches, £1295
Sold 23/12/09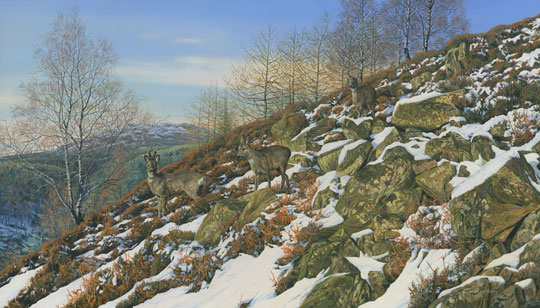 "Buck in Velvet", Roe deer
Oil painting, 18 x 32 inches, £2865
Sold 25/3/10



Kingfisher and Oak Leaves
Oil painting, 11 x 24 inches, £1545
Sold 23/1/0



Whooper Trio
Oil painting, 10 x 12 inches, £695
Sold


"On the easel"


Examples of works in progress: on the easel

sketches and preparatory drawings
painting stages from initial brush stroke to completion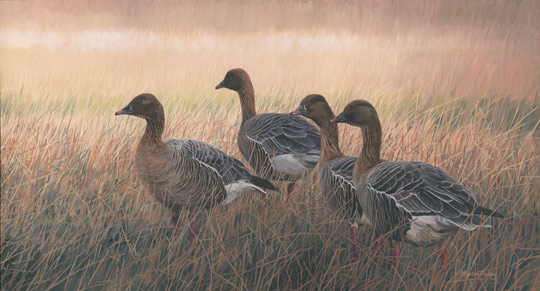 Pink-footed Geese,
Oil painting, 13 x 24 inches, £1475
Sold 15/4/08