Watercolor paintings for sale
Purchase original watercolor paintings
I very much enjoy working in watercolors. As a painting medium, watercolors provide me with a completely different range of effects and make a refreshing contrast to my lengthier oil painting projects.
I have decided that my most successful watercolours are those that retain a freshness. Most importantly I'm striving for a strong and lively pencil drawing that captures the essence of the animal's character. The drawings structure is the core of the picture. I try to complete the watercolour painting rapidly, because painting watercolors for too long endangers translucency and pigment clarity.

My apologies for using inconsistent spelling of the word watercolour, but visitors will be searching for different spellings watercolours & watercolors depending on, which side of the Atlantic they come from.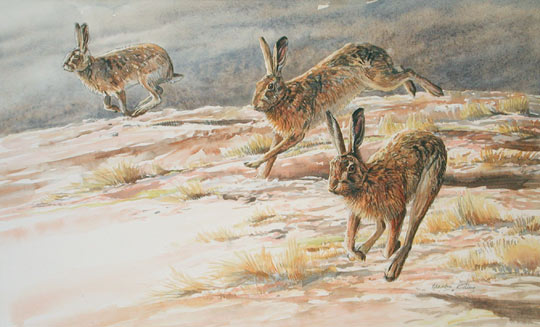 Cantering Hares
Watercolour, 12 x 19 inches
Sold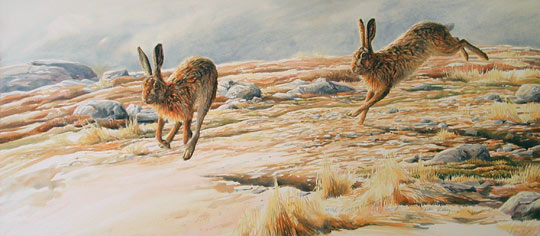 Brown hares chasing amongst rocks
Watercolour, 15 x 33 inches
Sold 11/6/06



"Sunbathing Hare"
Available as a limited edition print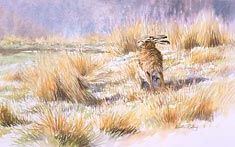 Sunbathing hare print
Signed and numbered limited edition print
(150 prints)
image 210 x 335 mm (approx. 8 x 13 inches)

Brown Hare Prints

wildlife prints




Young Little Owls
Acylics, 9 x 6 inches, £275
Sold 6/2003